HEADLINEWEALTH.COM HEADLINEHEALTH.COM
Headline USA

At Least 28 States Used Glitchy Software that Gave Biden 1000s of Trump Votes in Michigan

'👀 What does this mean for Nevada? We need answers…'
By
Contributing Author
November 9, 2020

Domion Voting Systems
Domion Voting Systems representatives give a demo in Chicago.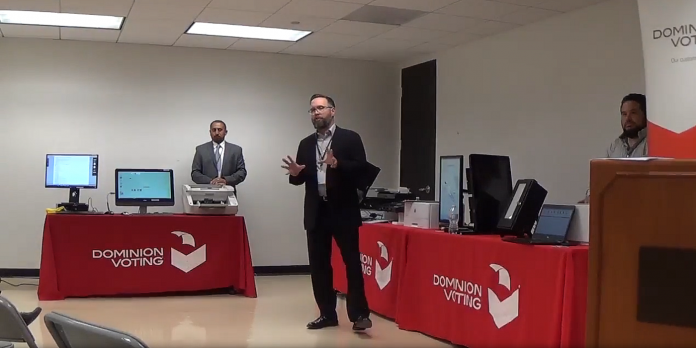 The election software that incorrectly awarded Democratic presidential candidate Joe Biden thousands of votes in Michigan was used by at least 28 other states, several of which have also resulted voting-related "glitches."
Michigan House Republicans are probing more counties and suggesting investigations in Nevada and Arizona after discovering Dominion Voting Systems technology seriously skewed the results in Antrim County.
The software company said that its failure to update the system ended up erroneously tabulating 6,000 votes for Biden rather than President Donald Trump.
"Our team is currently reaching out to county clerks across Michigan as well as going through election results in each of the counties which use this software to see how widespread this error may be," Tony Zammit, communications director for the Michigan Republican Party, said in a statement.
Michigan Republican Party Chairwoman Laura Cox said during a Friday news conference that 47 of Michigan's 83 counties "used this same software in the same capacity" as Antrim County.
She urged Michigan's other county officials to look for discrepancies, and encouraged Republicans in different swing states to do the same.
In Georgia, machines made by Dominion Voting Systems crashed for several hours, preventing voters from casting machine ballots in Morgan and Spalding counties, according to state officials.
Election officials extended the voting deadline as a result, but several officials reported that Dominion "uploaded something" to the systems the night before the election, "which is not normal," said Marcia Ridley, elections supervisor at Spalding County Board of Election, "and it caused a glitch."
Another Georgia county—Fulton, which includes much of the city of Atlanta—is facing a state investigation after a ballot "issue" was discovered.
Nevada GOP
@NVGOP
👀 What does this mean for Nevada? We need answers.
Kyle Becker
@kylenabecker
Some or all of the content shared in this Tweet is disputed and might be misleading about an election or other civic process. Learn more
The election software system in Michigan that switched 6,000 votes from Trump to Biden is called "Dominion."
It is used in 30 states including:
☑️Nevada
☑️Arizona
☑️Minnesota
☑️Michigan
☑️Wisconsin
☑️Georgia
☑️Pennsylvania
Every single major swing state. EVERY. SINGLE. ONE.
https://twitter.com/BrendanKeefe?ref_src=twsrc%5Etfw%7Ctwcamp%5Etweetembed%7Ctwterm%5E1325202849974816770%7Ctwgr%5Eshare_3&ref_url=https%3A%2F%2Fheadlineusa.com%2Fglitchy-software-gave-biden-votes%2F
Nevada also used Dominion Voting System, and though no specific errors have been reported yet, Nevada Republicans are already demanding answers.
https://twitter.com/NVGOP?ref_src=twsrc%5Etfw%7Ctwcamp%5Etweetembed%7Ctwterm%5E1324920034066485249%7Ctwgr%5Eshare_3&ref_url=https%3A%2F%2Fheadlineusa.com%2Fglitchy-software-gave-biden-votes%2F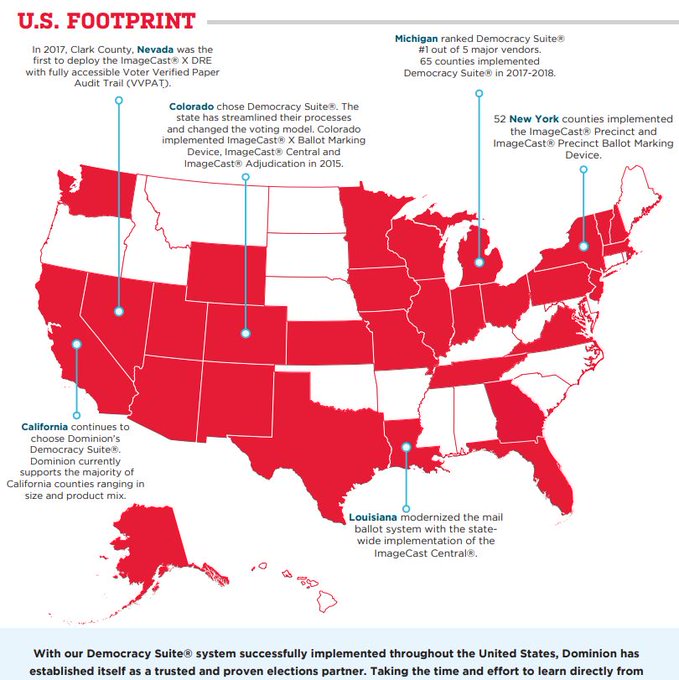 Former federal prosecutor Sidney Powell, the lead attorney for retired Lt. Gen. Michael Flynn, said the scandal with Dominion Voting System goes far beyond a few "glitches."
Top Democrats including House Speaker Nancy Pelosi, D-Calif., are linked to the system, Powell told Fox News, and they have been using it to commit election fraud for years.
"They have invested in it for their own reasons and are using it to commit this fraud to steal votes," Powell said. "I think they've even stolen them from other Democrats in their own party who should be outraged about this also."
She suggested, for example, that Dominion had a hand in tilting the primaries in Biden's favor.
"Bernie Sanders might very well have been the Democratic candidate, but they've stolen against whoever they wanted to steal it from," she alleged.
Dominion services 28 states and Puerto Rico, according to its website, including all of the battleground states where Trump has contested the results of the election after Biden suddenly surged ahead.
Donald J. Trump
@realDonaldTrump
I WON THIS ELECTION, BY A LOT!
Official sources may not have called the race when this was Tweeted
9:36 AM · Nov 7, 2020
kommonsentsjane