Truth2Freedom's Blog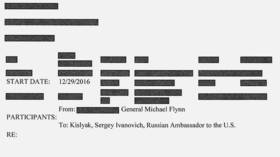 Transcripts of conversations with Russian Ambassador Sergey Kislyak show that incoming National Security Adviser Michael Flynn was looking out for US interests and sought Russian help against terrorists, while the FBI framed him.
Flynn and Kislyak spoke several times in December 2016 and January 2017, during the presidential transition. Within days of President Donald Trump's inauguration, the FBI interviewed Flynn with an intent – as shown by recently published documents – to catch him in a perjury trap. After a description of his call with Kislyak was leaked to the Washington Post, Flynn was accused of misleading the White House about the calls and pressured to resign.
Those invested in the 'Russiagate' conspiracy theory have claimed for years that Flynn discussed easing US sanction against Moscow.
Also on rt.com

'Get him…
View original post 631 more words