Reblogged on kommonsentsjane/blogkommonsents.

HOUSTON – WE HAVE A BIG PROBLEM?

Don't forget:

No Surprise As Anti-Trump Women's March Organizer Linda Sarsour Has Ties To Islamic Terror Group Hamas

So when is Schumer/Pelosi and the Black Caucus representatives going to disavow Farrakhan?

Also the Black Caucus met with the Black Panthers who vowed to use the same tactics in the mid-term elections which they used before?

Remember – the Black Panthers kept people from voting and Obama and Holder let them off the hook? Is that what they mean when they say they are going to use the same tactics to disrupt the voting?

The Democratic Party has been hijacked by the muslim/communists – PLAIN AND SIMPLE.

kommonsentsjane
Reclaim Our Republic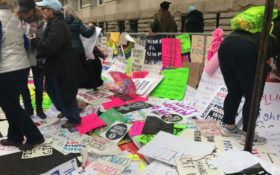 Mar 30, 2018
The women of the "Women's March" are on the march again.
They're marching OUT of the liberal group as they realize it's being run by extreme radicals who embrace the notorious hatemonger Louis Farrakhan!
Three out of four of the group's co-chairs have ugly links to this racist, anti-Semitic, homophobic, hate-spewing leader of the Nation of Islam.
One of them, Tamika Mallory, attended a February speech by Farrakhan.
Called on to denounce him, she refused.
"In that most difficult period of my life, it was the women of the Nation of Islam who supported me and I have always held them close to my heart for that reason," she wrote in response to the outcry, but without mentioning him, The New York Times reported.
In the past, she shared an image of her being embraced by Farrakhan.
"Thank God this man is still alive and doing well,"…
View original post 428 more words