Reblogged on kommonsentsjane/blogkommonsents.

The purpose of this program – Dreamers – is to have an open-ended program to allow illegals to walk into our country at will. The Dem's need more votes – plain and simple. We must not allow this.

kommonsentsjane
Reclaim Our Republic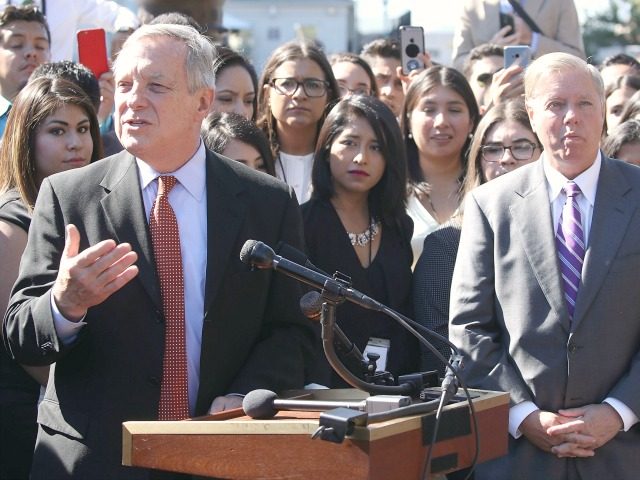 7 Oct 2017 by John Binder and Neil Munro
Democratic leader Sen. Richard Durbin confirmed to Breitbart News that the Dream Act amnesty is open-ended and larger than his advertised number of the 780,000 people who have signed up for the DACA amnesty.
Breitbart News asked Durbin on Wednesday how many people would be included in the amnesty, which is co-sponsored by South Carolina Republican Sen. Lindsey Graham. Durbin answered by saying:
We're aiming at the DACA population, which is 780,000, but the Dream Act leaves that open.
Durbin spoke at a press conference arranged by Mark Zuckerberg's FWD.us advocacy group. The event featured roughly 100 illegal aliens. Breitbart News asked the Illinois Senator when he would have a public estimate for the number of people who would gain from open-ended Dream Act, and he replied:
I don't know that we have numbers. We can tell you 780,000…
View original post 1,558 more words